I love blogs...I read them all the time. The whole knitting community is big on blogging so thats usually pretty interesting. What people are doing or working on...I love it...so why is it that I have the hardest time keeping up on my own? I'm going to be better I promise...
To catch up...
This summer was fun. We hung out at home mostly. This was our summer project...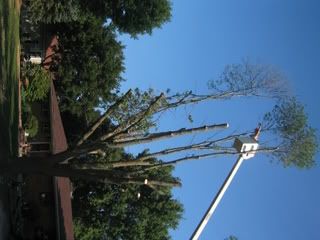 This big beautiful Ash tree in our front yard was being killed by the Emerald Ash Borer. It was hanging precariously over our house. So we had to cut it down...We chipped up all the small stuff for mulch and this is what we did with the bigger pieces....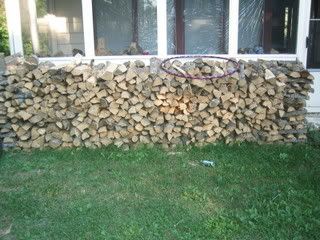 And thats not nearly all of it...firewood! Yay! So as sad as I was about losing that big beautiful tree, we managed to recycle every bit of it, makes me feel better.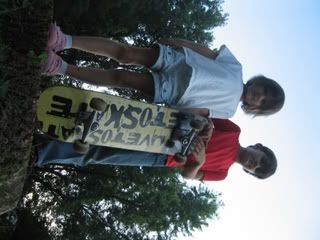 My kiddos both had birthdays so they are now 5 and 8. Big kids.
My little business is still doing well. I was so excited when just last week my mailing list hit 100 members! I've been really loving
Etsy
lately. I haven't posted anything new there in a while but when i do its always good to me. There's some really amazing artists on there as well. I've started spinning again. I bought these batts from
Loop
...
Absolutely stunning. I'm deciding what to make out of the yarn I spin....maybe a hat or a scarf to go with the winter coat I'm making myself =)...
I'm trying to blend different fibers without a drum carder or hand cards...just by splitting the rovings...here's some of my latest...
The one on the left is blue face leichester in royal blue, light blue and seafoam green with splices of dark purple bamboo...
On the right is my FAVORITE! Its natural black alpaca with hand-dyed black bamboo with some undyed areas that turned silver. Its so heavy and soooo soft!
In clothing I've been trying some new designs... =). I have a couple new tops made out of hemp jersey that I left the exposed seams from the serger. I love the effect and they turned out really comfortable. The trick is how to make them really unique and not just another jersey top...its a work in progress...
I feel like this blog is so boring...thanks to all who sat through it :). I'll get there...pretty soon I'll be the MASTER BLOGGER!!! Ha, when i remember to write one....
You'll have to excuse my picture placement....I can't seem to get it right!